The Department for Business, Energy & Industrial Strategy (BEIS) has announced the ban of halogen light bulbs from September 2021 as part of a package of measures aimed to promote a greener future.  The necessary legislation is being brought forward this month and will also include the removal of fluorescent lights from shelves from September 2023.
LED lighting technology has developed rapidly over the last few years and is constantly improving.  The efficiency of modern LED systems is usually far superior even to older low energy bulbs.  It is hoped that the combined measures being proposed will save a typical household around £75 per year.
Key features of the proposed legislation:
Sales of halogen bulbs to be banned from September 2021.
Sales of light fittings with non-replaceable to be banned from September 2021.
New scale for the energy efficiency of lighting running from A to G like that used for building energy ratings with few bulbs expected to achieve A ratings.
Right to repair to being established placing a duty on manufacturers to provide spare parts.
Sales of most fluorescent bulbs to be banned from September 2023.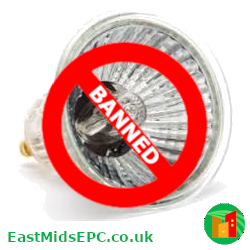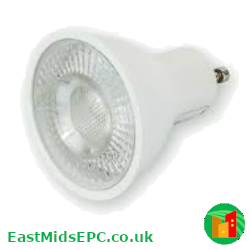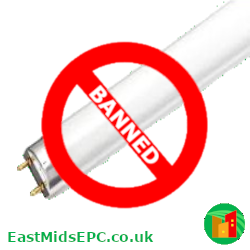 Cutting 1.26 million tonnes of CO2
The government expect the shift to LED bulbs to cut 1.26 million tonnes of carbon dioxide (CO2).  This would be equivalent to removing over half a million cars from the road.
Currently, around two thirds of bulbs sold in Britain are LED lights.  This makes a considerable impact in improving the energy efficiency of the UK's buildings.  LED lights typically last five times longer than traditional halogen lightbulbs and produce the same amount of light using up to 80% less power.  In commercial settings, they also produce significantly less heat reducing the need for energy intensive cooling and air-conditioning.
Energy Minister, Anne-Marie Trevelyan, said:
"We're phasing out old inefficient halogen bulbs for good, so we can move more quickly to longer lasting LED bulbs, meaning less waste and a brighter and cleaner future for the UK.
"By helping ensure electrical appliances use less energy but perform just as well, we're saving households money on their bills and helping tackle climate change."
The plans also include a ban from September 2021 on the sale of lighting fixtures with fixed bulbs that can't be replaced.  Fixtures such as these account for 100,000 tonnes of electrical waste every year.  This is over 6% of the 1.5 million tonnes of electrical waste currently produced in the UK annually.
Minister for Climate Change, Lord Martin Callanan, said:
"Flicking the off-switch on energy inefficient light bulbs is a simple way that households can save money at the same time as saving the planet.
"Phasing out halogen bulbs in favour of LED alternatives that last longer, are just as bright and cheaper to run, is another way that we are helping tackle climate change."
The proposals follow public consultations and have been widely accepted by industry.  Chief Executive of Signify UK, which owns Philips lighting, Stephen Rouatt, said:
"We welcome the UK government's next step in the transition towards more sustainable lighting products. Using energy-efficient LED equivalents for halogen and fluorescent lighting on an even broader scale will significantly help the UK on its journey to decarbonisation, as well as lowering the annual electricity bills for consumers."
For some time, we have been advising our clients to consider the change to LED lighting.  In most cases this can be achieved relatively simply and phased in over time as the current lights fail.  Some care should be taken in the choice of new LED lighting solutions to avoid excessive brightness and to ensure a suitable colour spectrum is selected.  You can read more in our "Change to LED lighting technologies" FAQ.
Some energy assessments, particularly non-domestic EPCs, still contain recommendations to change to technologies that are now being banned by the government.  This is not something individual energy assessors can change and is the direct result of the failure to keep the assessment methodologies up to date.  Here at East Midlands Energy Efficiency we hope that the Government and the Accreditation Schemes will now work together urgently update the recommendations included on all assessment reports.  In particular, we believe all assessments should include a specific recommendation to change to LED lighting technologies where these are not already the major lighting technology in use within a building.