The West Midlands is one of nine official regions of England at the first level of NUTS for statistical purposes. It covers the western half of the area traditionally known as the Midlands. The region consists of the counties of Herefordshire, Shropshire, Staffordshire, Warwickshire, West Midlands and Worcestershire. The largest city in the region is Birmingham.
The region is geographically diverse, from the urban central areas of the conurbation to the rural western counties of Shropshire and Herefordshire which border Wales. The longest river in the UK, the River Severn, traverses the region southeastwards, flowing through the county towns of Shrewsbury and Worcester, and the Ironbridge Gorge, a UNESCO World Heritage Site. Staffordshire is home to the industrialised Potteries conurbation, including the city of Stoke-on-Trent, and the Staffordshire Moorlands area, which borders the southeastern Peak District National Park near Leek. The region also encompasses five Areas of Outstanding Natural Beauty, the Wye Valley, Shropshire Hills, Cannock Chase, Malvern Hills, and parts of the Cotswolds. Warwickshire is home to the towns of Stratford upon Avon, birthplace of writer William Shakespeare, Rugby, the birthplace of Rugby football and Nuneaton, birthplace to author George Eliot.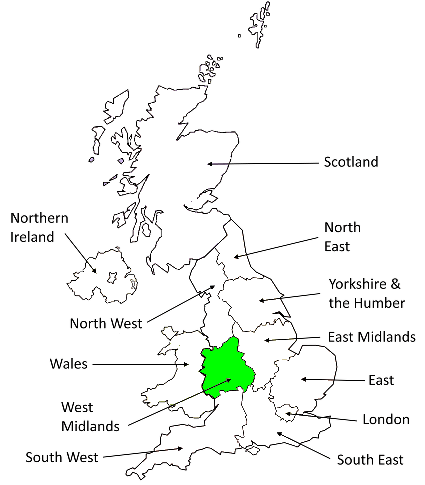 Post Districts in the West Midlands
Select a post district from the list below to discover more:
Contains OS and National Statistics data © Crown copyright and database right 2020 and Royal Mail data © Royal Mail copyright and database right 2020.