The East of England is one of nine official regions of England situated at the first level of the European Union's (EU) Nomenclature of Territorial Units for Statistics (NUTS).  This structure was given its current form in 2018 and revised in 2020 to account for the UK exiting the European Union. The East of England region was created in 1994 and adopted for statistics purposes from 1999. It includes the ceremonial counties of Bedfordshire, Cambridgeshire, Essex, Hertfordshire, Norfolk and Suffolk. Essex has the highest population in the region.
The population of the East of England region at the 2011 census was 5,847,000. Bedford, Luton, Basildon, Peterborough, Southend-on-Sea, Norwich, Ipswich, Colchester, Chelmsford and Cambridge are the region's most populous towns. The southern part of the region lies in the London commuter belt.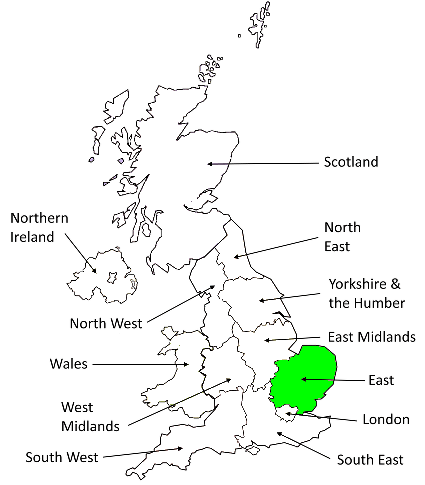 Post Districts in the East of England
Select a post district from the list below to discover more:
Contains OS and National Statistics data © Crown copyright and database right 2020 and Royal Mail data © Royal Mail copyright and database right 2020.